OANDA REVIEW
Every industry has established pioneers who have built a name for themselves by being reliable, offering a variety of products and services. The world of finance has an abundance of online brokers who are newcomers and pioneers. Oanda used the last 24 years of their existence to build a name that is associated with reliability, security, and a trader first mentality. These principles have established Oanda as one of the top forex brokers in the market.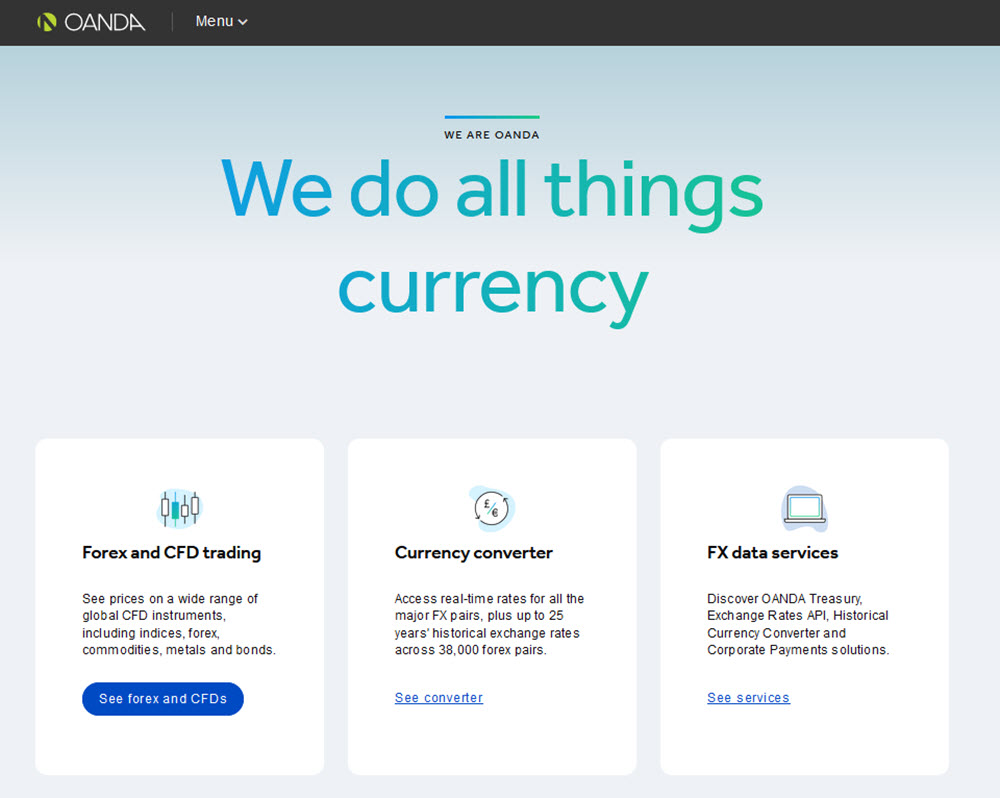 OANDA Difference
Oanda was founded in 1996, by cofounders Richard Olsen and Michael Stumm. US based Oanda's founders built a unique brokerage company which prioritizes transparency, easy trading experience and smooth executions. Originally started as a Forex broker offering a limited number of currency pairings for investors and traders. Today, Oanda offers its users Forex Spot Trading, 71 currency pairs, index instruments, and 53 CFDs to choose from.
Oanda has a truly stellar reputation among traders, investors, and customers. In fact, this broker was awarded the highest overall customer satisfaction by Investment Trends magazine. This honour can be credited to the offerings of top-notch customer service, complying by a variety of regulatory bodies, providing customers with a wide array of platforms and assets to trade, and their belief in transparency.
OANDA Features
So, what is it about Oanda that makes it worthy of all these awards and accolades? From their offerings of multiple platforms, low fees and commissions, let's take a look at what makes OANDA stand out.
Base Currencies: Oanda offers users 9 different base currencies: EUR, USD, GBP, AUD, CAD, CHF, HKD, SGD, JPY.
Account Types: Including the demo account where you can try your hand out in Forex and CFD trading with $100,000 in virtual currency, Oanda offers only 1 main type of account. However, under this main account you can create up to 19 sub-accounts. There is no minimum deposit requirement for to start an account with Oanda.
Trading Platforms: you will have a selection of two different types of trading platforms on their own system, with additional third-party developed platforms:

FxTrade Platform: Oanda's flagship platform, available on the web, desktop, and mobile application. This platform is powered by TradingView, offering over 80 indicators and features.
MetaTrader: for traders who prefer the world famous MT4 or MetaTrader4 platform.
Seer Trading Platform: provided by third-part developers. This platform offers Algorithmic Trading system development.

Banking Options: Once your account is setup, you will need to fund the account to start investing. The options below with a star next to them can also be used for withdrawals.

Debit Cards*
Bank Wire Transfers*: takes 1-3 days
Check
Automated Clearing House (ACH): takes up to 6 days

Spreads and Commissions: Oanda is on par with their closest competitors in fees and commissions. Spreads are determined by a market responsive monitoring system. Since Oanda is a market-maker they are able to offer spreads at .6 – .7 pips.
Leverage: Oanda determines your leverages by your geographical location. Oanda abides by the leverages set by the local regulating bodies.
Regulations: Oanda is regulated by multiple bodies:

USA – Commodity Futures Trading Commission (CFTC)
UK – Financial Conduct Authority (FCA)
Canada – Investment Industry Regulatory Organization (IIROC)
Japan – Financial Services Agency (FSA)
Australia – Australian Security and Investment Commission (ASIC)
Singapore – Monetary Authority of Singapore (MAS)
Nearly two and a half decades of growth and experience has made Oanda a top choice in the forex brokerage market. Providing a safe and easy to use platform that provides a large quantity of features, charts, platforms and a transparent business format is sure to keep Oanda at the top tier of finance world for a long time to come.