INTERACTIVE BROKERS REVIEW
Forty-two years of experience is nothing to scoff at. Especially if that experience is attached to a broker who is known worldwide as the best online broker in the world. Interactive Brokers has dominated their industry to become one of the biggest US-based discount brokers. Offering the biggest selection of markets and products for their traders in an industry full of tough competitors. Interactive Brokers also happens to be one of the most heavily regulated online brokers in the industry.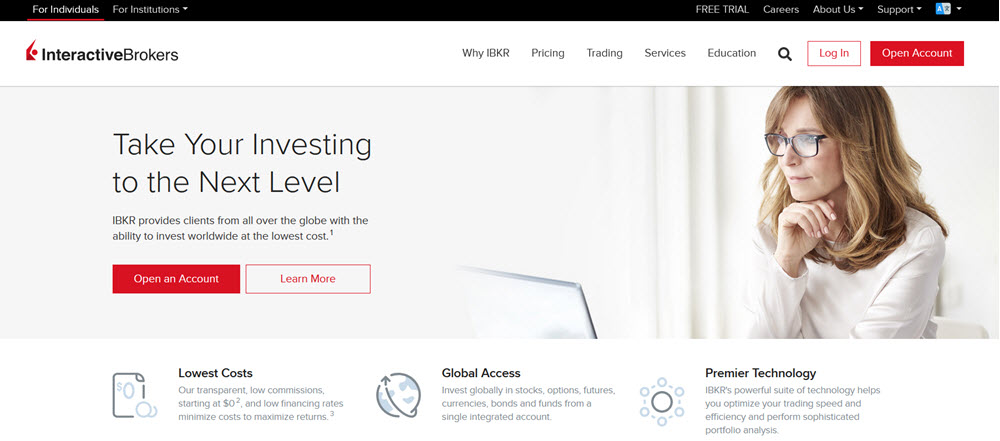 Interactive Brokers (IBKR) Difference
Interactive Brokers defines the term, age before beauty. Founded in 1978 this broker has roots two to three times deeper than some of their closest competitors. This brokerage house was founded by Thomas Peterffy, in New York, NY. Interactive Brokers is currently headquartered in Greenwich, CT, and has over 1,400 employees across its offices in USA, Canada, Hong Kong, Switzerland, UK, Hungary, Japan, China, India, Russia, Australia, and Estonia.
IBKR offers a wealth of tools, investment products, and access to 135 markets in 33 countries. Interactive Brokers is truly a global enterprise, with industry-leading commissions. Where this firm shines the brightest is in Day Trading, Options Trading, Futures Trading, Mobile Trading and Professional Trading go. One mind-blowing example of why they are the best in these trading markets is the 65 unique order types available. Wherever you are in the world and whatever your preferences are in investments and trading, Interactive Brokers has you covered.
Interactive Brokers Features
When listing the features and offerings of IBKR, only question is where to begin
Base Currencies – 22 different options:

Australian Dollar, British Pound, US Dollar, Euro, Chinese Yuan, Canadian Dollar, Hong Kong Dollar, Mexican Peso, Israeli Shekel, Hungarian Forint, New Zealand Dollar, Norwegian Krone, Singapore Dollar, South African Rand, Swedish Krona, Swiss Franc, INR (in India Only), Russian Rouble, Polish Zloty, Danish Krone, Japanese Yen, Czech Koruna.

Account Types – There are an abundance of different account types grouped as:

Individual Traders and Investors Accounts

Individual: Single individual Ownership
Joint: Two-person ownership
IRA: individual retirement account (US only)
Trust: Operated by a Trustee
Friends and Family: Up to 15-member client groups
Small Business: small corporations
Advisor: For client managers who control the client administration and money
Money Manager: Individual hired on behalf of an advisor

Trading Platforms – For web-based users of IBKR there are two platforms to choose from:

Trader Workstation (TWS): The flagship platform for Interactive Brokers. Overflowing with professional trade tools ranging from IBot an AI based customer service, Algo trading, Volatility Lab, Options Strategy Lab, and many more
Client Portal: user-friendly and easier to use.

Banking Options: Funding and Withdrawing from your account requires you to use Bank Wire Transfers.
Spreads and Commissions: Two primary pricing plans:

IBKR Pro: Built for professional traders.

Stock: $0.005 per stock trade
Options: Contracts priced under $0.10 have $0.65 per contract fee. Contracts priced $0.05 have a $0.25 per contract fee.
ETF: $0.005 per trade
Mutual Funds: $14.95 per trade
Inactivity fees: Up to $20 per month

IBKR Lite: Made for less experienced traders. No inactivity or data fee. Free trades on US stocks and ETF trades. Options are charged same as IBKR Pro

Regulations: IBKR abides by 9 regulatory bodies rules:

USA: Financial Industry Regulatory Authority (FINRA), US Securities and Exchange Commission (SEC)
EU/UK: Financial Conduct Authority (FCA)
Canada: Canadian Investor Protection Fund (CIPF), Investment Industry Regulatory Organization of Canada (IIROC)
India: Securities and Exchange Board of India (BSE)
Japan: Financial Services Agency (FSA)
Hong Kong: Honk Kong Securities and Futures Commission
Australia: Australian Securities and Investments Commission (ASIC)